Ryan Flaming

Agriculture Extensin Agent
316-284-6930
flaming@ksu.edu

Publications
Women In Ag Series Presents Land Leasing Strategies
A four-part extension workshop focused on the basics of land management, leasing, and conservation for both landlords and tenants. Sessions are scheduled for January 18, January 25, February 1 and February 8 starting at 5:30pm CST.

Dinner will be included with all in-person sessions.
To register, visit: ksre-learn.com/womeninag2023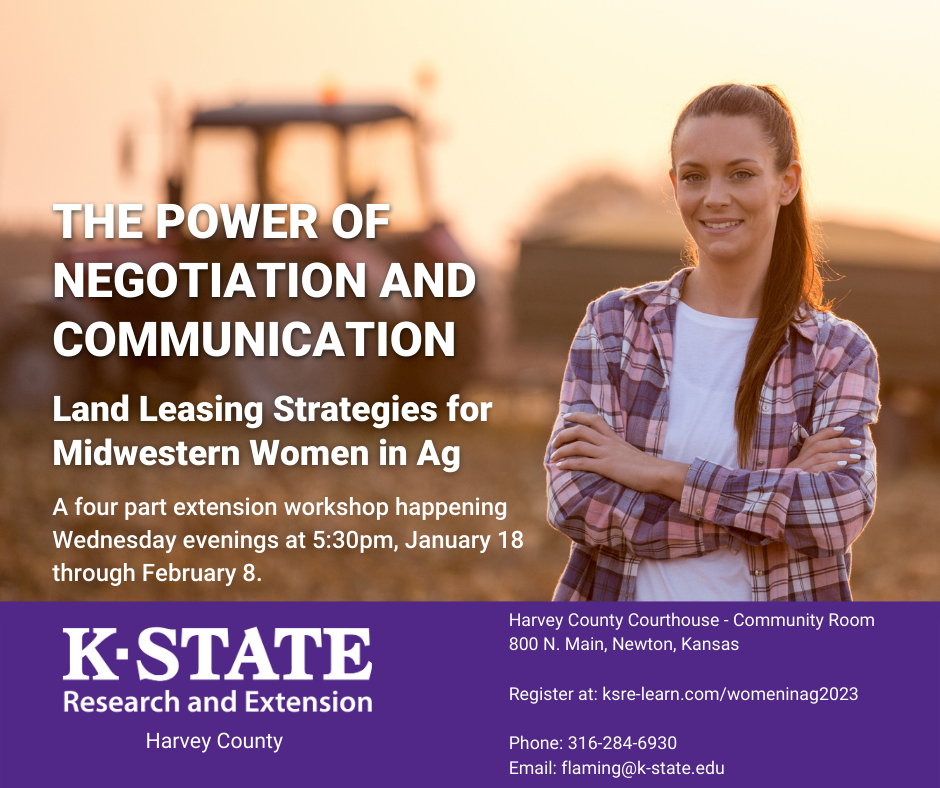 Annual Cow-Calf School
Harvey and McPherson Counties presents the annual Cow-Calf School.
February 9th 2023
4-H Building, 710 W. Woodside
McPherson, Kansas
Steak Dinner for $10 fee will begin at 6pm. Program will follow at 7pm.
Register by any of the following means:
Call 620-241-1523
Email tregehr@ksu.edu
Online at https://tinyurl.com/KSRECowCalfSchool2023
See attached flier for more information.
Hunting Leases in Kansas
Join us for a presentation on leasing for hunting use in Kansas. Topics will include:
What are Sportspersons Looking for?
Types of Hunting Leases
Fee structure
Hunting Lease Document
Liability
Wildlife Management
Other Opportunities
February 3rd, 7:15pm
Canton Legion
192 S. Main Street, Suite 132, Canton KS 67428
Free and open to the public.
2022 Wheat Test Plot
South-Center Kansas Replicated Wheat Variety Tests
Kansas Local Meat Marketing Workshops
The Kansas Local Meat Marketing Workshops will help small scale meat, poultry, and egg producers capitalize on the growing demand for local food. Attend to learn key marketing strategies and best practices from the experts, including fellow producers. Lunch, prepared with local ingredients, will be provided. KDA's Weights and Measures program will also offer free scale certification with paid registration.
FEATURED SESSIONS
Licensing and Regulations: What You Need to Know - Kansas Department of Agriculture
Marketing Strategies & Best Practices - David Bisek, FoodRise Marketing
Panel Discussion - Local producers and processors
February 3, 2023 – Wichita
February 24, 2023 – Olathe
March 3, 2023 – Parsons
REGISTER TODAY!
Cost: $20 per attendee. Each workshop will cover the same content and will be held from 10AM-3PM. Register at
tinyurl.com/LocalMeatKSU.
Hosted by the Local Foods Transdisciplinary Team at Kansas State University.
Questions? Email elblair@k-state.edu.
HPAI: Highly Pathogenic Avian Influenza
Highly pathogenic avian influenza, or HPAI, is a rapidly spreading viral disease that can infect many types of birds. Avian influenza, often called avian flu or bird flu, can be common, but some strains are highly pathogenic, which means they are more deadly. Introduced by migrating wild birds, HPAI can spread through spring migration and affect all domestic poultry — small and backyard flocks as well as commercial industries.
Poultry with HPAI do not survive the illness. Vaccines for HPAI are not readily available.
View more inforation on the Flier
USDA Confirms Highly Pathogenic Avian Influenza in Kansas
Youth Poultry Brochure has more information for 4-H Youth in the Poultry Project.
Meat Science Series
Two presentations give information on selling meat direct to consummers. Topics include meat science, meat sales and establishing a slaugther and processing facility.
Recordings of the Presentations are linked below.
Selling Direct to Consumers/Starting a Processing Plant with KDA
Basics of Meat Science with Francisco Najar-Villarreal

Previous Series Recordings Available On-Demand
Getting the most out of your acreage for livestock
Predator & Wildlife Control Video
Cash Rent per Acre Maps
Compiled by the USDA, these maps give the average amount per acre for cash rent of Irrigated crop land, Dry crop land, and pasture land by county in the state.
For additional information, see our KSRE specialist publication for "2022 Kansas County-Level Cash Rental Rates for Non-Irrigated Cropland".
Kansas Custom Rates 2022
This is an updated version of the Custom Rates for 2022
Farm Lease Agreement Forms
Links