Ryan Flaming

Agriculture Extensin Agent
316-284-6930
flaming@ksu.edu

Publications
On-Line Courses Available
Register before May 15th and use the coupon codes below for $25 off.
HPAI: Highly Pathogenic Avian Influenza
Highly pathogenic avian influenza, or HPAI, is a rapidly spreading viral disease that can infect many types of birds. Avian influenza, often called avian flu or bird flu, can be common, but some strains are highly pathogenic, which means they are more deadly. Introduced by migrating wild birds, HPAI can spread through spring migration and affect all domestic poultry — small and backyard flocks as well as commercial industries.
Poultry with HPAI do not survive the illness. Vaccines for HPAI are not readily available.
View more inforation on the Flier
USDA Confirms Highly Pathogenic Avian Influenza in Kansas
Youth Poultry Brochure has more information for 4-H Youth in the Poultry Project.
Meat Science Series
Two presentations give information on selling meat direct to consummers. Topics include meat science, meat sales and establishing a slaugther and processing facility.
Recordings of the Presentations are linked below.
Selling Direct to Consumers/Starting a Processing Plant with KDA
Basics of Meat Science with Francisco Najar-Villarreal

Previous Series Recordings Available On-Demand
Getting the most out of your acreage for livestock
Predator & Wildlife Control Video
Soil Health & Cover Crop Workshop
If you couldn't join us via Zoom, you can still watch the recorded presentation at the link below.
https://www.youtube.com/watch?v=EmSd-bhojTI

Cash Rent per Acre Maps
Compiled by the USDA, these maps give the average amount per acre for cash rent of Irrigated crop land, Dry crop land, and pasture land by county in the state.
For additional information, see our KSRE specialist publication for "2022 Kansas County-Level Cash Rental Rates for Non-Irrigated Cropland".
2020 Wheat Test Plot
Results are in for the 2020 Wheat Test Plots
See State-Wide Results on the KSRE Dept. of Ag page. 2020 Winter Wheat Performance.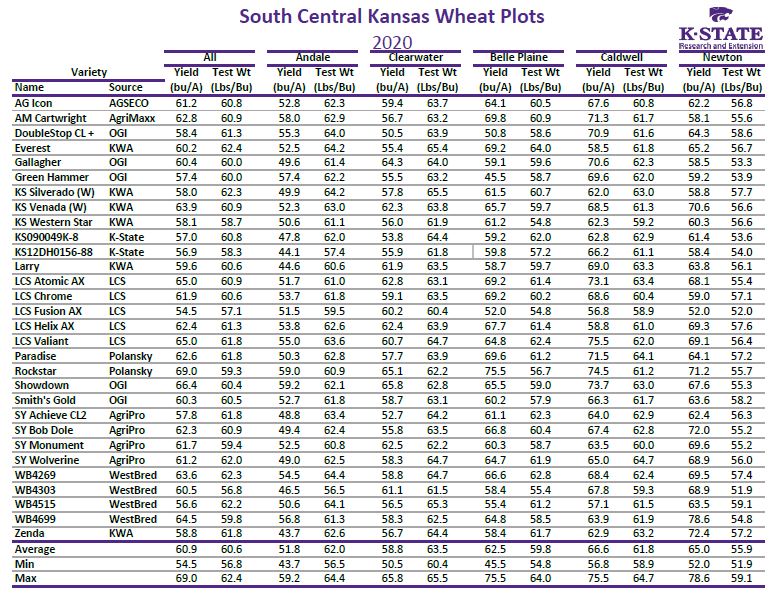 The plot is located on the north side SW 48th street just east of the S Hoover Road intersection.
Kansas Custom Rates 2020
This is an updated version of the Custom Rates for 2020.
Farm Lease Agreement Forms
Links