Project Report Form:
4-H'er's keep track of project information and complete end of the year records through the Project Report Form. These should be completed for each project of which the 4-H'er enrolled each year. A 4-H'er may qualifying for a project pin and is awarded at Achievement Banquet each year.
Age specific forms are available for Juniors (7-8), Intermediate (9-13), and Senior (14-18).
Locate instructions, personal page, question and answers, and age specific KAP forms by visiting the Kansas 4-H Website.
NEW this year is our online record books. Follow this link for tutorials on how to use ZBooks, step by step guides and links to ZBooks.
Member Achievement Pin Applications:
4-H members complete Membership Pins annually. These pins are different than project pins and recognize a 4-H'er for overall 4-H growth and involvement.
For Member Achievement Awards information, visit Kansas 4-H Website for more information.
Click Here for a list of Membership Achievement Plan Alternatives
Outstanding 4-H'er Award:
2021 Award Recipients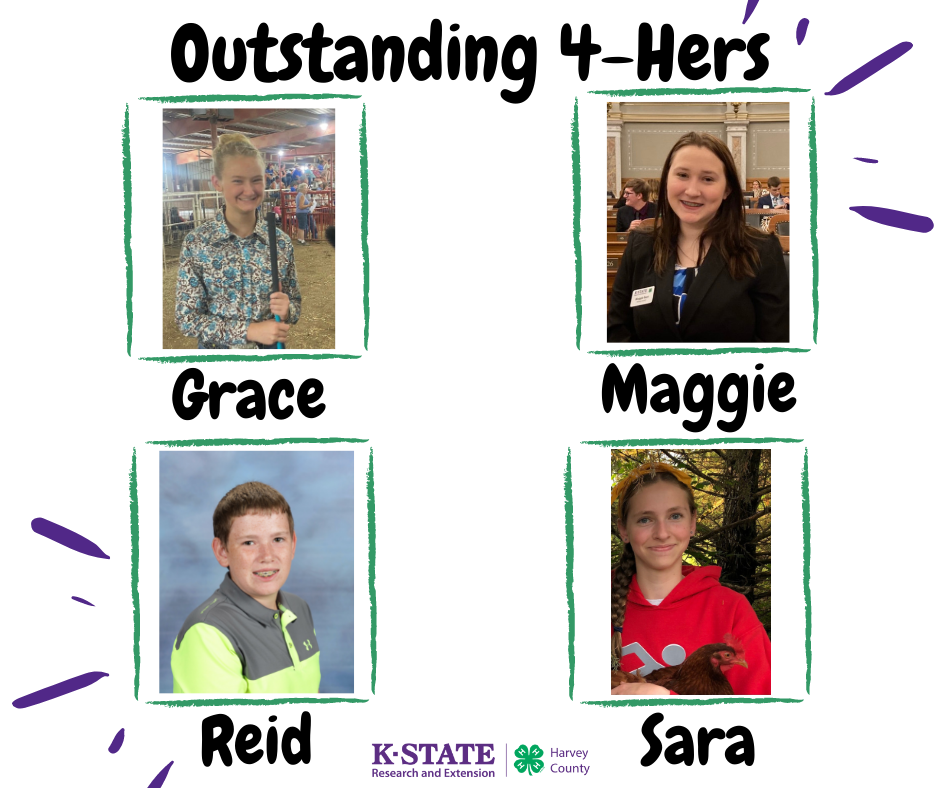 Each year the Harvey County 4-H Development Foundation gives Outstanding 4-Her awards to 4 members they deem to have exhibited exceptional leadership, community service and have went above and beyond in terms of 4-H involvement. Each Outstanding 4-Her receives $50 and recognition in the paper and our Social Media pages. They can nominated by Club Leaders, Volunteers, 4-H members or self-nominated. They must fit into the 2 age groups; 13-15 and 16+ and actively enrolled in Harvey County 4-H.
Click Here for the application.
Click Here for previous recipients.
Development Fund Scholarship:
Event Scholarships:
Our local Harvey County 4-H Foundation has several opportunities for youth to apply for scholarships to attend Regional and State events. Find instruction and application
here
.
Senior Scholarships:
They also support all our graduating seniors with a scholarship application in the fall for high school graduates that graduated in May 2021. The Harvey County 4-H Development Fund is generous to give those who apply and are selected a scholarship to help with costs of going to College. We will recognize the recipients during Achievement Night.
Memorial Scholarship:
Gary Baehler & Krista Baehler Memorial Scholarship:
High school graduates that graduated in May 2021 are eligable to apply. Krista was a Harvey County 4-H Alumni who was active in the Ag projects greatly. Her dad Gary was a parent, 4-H volunteer and sponsor for our program. He was the local vet in Hesston, KS and tragically passed away in 2021. To give back to 4-Hers, their family has set up a memorial for 4-Hers who are majoring in Agurculture or Animal Sciences and those 4-Hers will be considered first before other majors.
Click Here for the application.