News
Glenda retiring after 40 years with Harvey County Extension
Yes it is true – I have worked for Extension for 40 years, and will be retiring soon. For those of you who can't imagine working at the same place for that long, realize that as time passes you have new employees to work with, and the tasks that you are doing change along with new technology. So every now and then it is like a new job. And even after 40 years, the questions people call and ask continue to surprise me.
Like "How much blood is in a lamb?" (it was Easter); "Why doesn't the Dairy Queen answer." (They tore it down.) "I need to cook a turkey today and it is frozen solid. I currently have it outside on the roof of my car in the sun, is that ok." (Well you can answer that one.) Starting out we had typewriters, a mimeograph, and a mechanical
adding machine with a lever. A database was a notebook with tabs, handwritten. There was one copier in the courthouse in the basement, and only special people could unjam the machine. I remember the first computer purchase and of course the dot matrix printer. The whole staff shared it.
In answer to what Extension does, most folks recognize "4-H" as being a youth organization where youth enroll in projects like arts and crafts to ducks to wildlife to foods and nutrition. I have had the privilege of seeing 4H'ers grow up, and now their children, and grandchildren are signing up for 4-H. What else does Extension do? Anyone who has questions about horticulture, agriculture, family consumer sciences, 4-H, aging and senior counseling and more, can call and ask one of the agents. Three office professionals are their support staff!
We send out educational newsletters to the public on various topics, and now in addition to using snail mail, we email them or post on our website which we maintain or post on our Facebook page. My favorite saying from a former Extension Agent is "What does extension do? Whatever the people need doing."
In 40 years, I have worked with 16 different agents and 7 different office professionals. Together we have shared birthdays, weddings, funerals, babies, anniversaries, graduations, retirements; and moments of tears and laughter.

I'm looking forward to retirement and expanding a few hobbies, taking a some road trips, and adding a few volunteering opportunities to my resume, as well as getting a stubborn mini dachshund to mind me better. Wish me luck!
Congratulations to Glenda!
We would like to Congratulate our Office Professional Glenda Prieba for receiving the K-State Research & Extension state award for Local Unit Office Professional of the year. The award was presented to Glenda last week at Annual Conference by John Flores, Dean of Agriculture & director of K-State Research & Extension while Dr. Daryl Buchholz, Associate Director K-State Research & Extension read the following:
"Since 1988, Glenda Prieba has been the constant face in the Harvey County office of K-State Research and Extension, working with 16 agents during her career. She led the staff into the technology age & has continued to take the initiative to learn new systems & train others in the office. She embodies the definition of "servant leader" as she works tirelessly behind the scenes for every event, project, or meeting. If an agent, parent or community member has a concern, they know that Glenda will lend a helpful hand.
She is known for her attention to detail, strong work ethic and high productivity. She is always looking for ways to improve the office & to make K-State Research and Extension more accessible to the public, in turn making the office a reliable community resource.
A Harvey County Commissioner who is also an Extension volunteer said that "Glenda's 39 years of service to the citizens of Harvey County are a key reason that citizens hold the Harvey County Office in such high esteem"."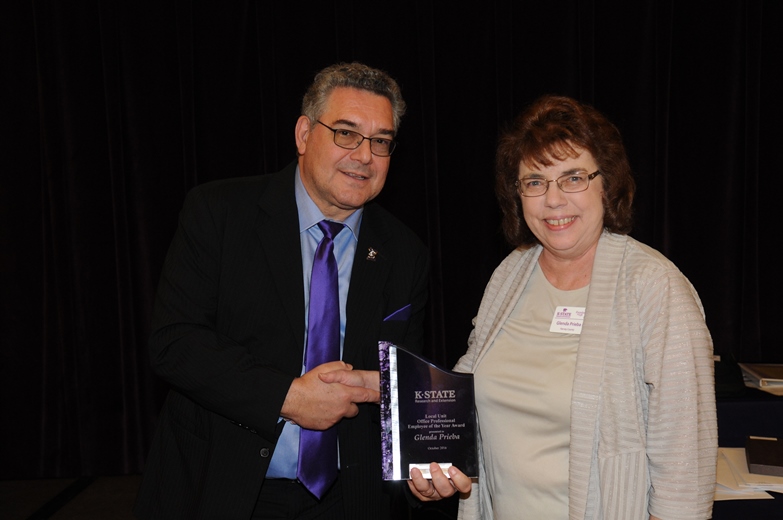 Annie Pitts Receives Grant - Domestic Violence Among Teens
The Safe Dates curriculum teaches about domestic violence - the warning signs, how to help a friend, and how to define healthy relationships. This grant will be used to partner with schools and the community in providing the Safe Dates domestic violence educational program. There will also be news articles during Domestic Violence Awareness Month, along with speakers and public awareness events. The objective is to help break the cycle of violence and keep families and individuals safe physically, emotionally and mentally.